Sobre FieldPulse
FieldPulse is a cloud-based solution that helps businesses manage job scheduling, dispatching and communication with teams in the field. Key features include billing, routing, work order management and remote access. Designed for mobile service businesses and contractors, FieldPulse helps provide employees access to customer information, project updates and client notes. It comes with a tool, which allows enterprises to assign pricing to every line item and offer cost visibility across the pipeline. Additionally, the solution enables users to view subtasks assigned to every team member and track their performance as they proceed in the project. FieldPulse comes with a time tracking tool to monitor the time and location of teams and establish employee accountability. Mobile applications for Android and iOS devices are also offered to remotely manage business activities. It is available on a monthly subscription and support is extended via documentation, phone and online help desk.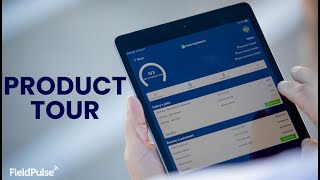 FieldPulse dispone de una versión gratuita y ofrece una prueba gratis. La versión de pago de FieldPulse está disponible a partir de USD 65.00/mes.
Precio inicial:
USD 65.00/mes
Alternativas a FieldPulse
Sector: Construcción
Tamaño de la empresa: 2-10 empleados
Software usado

A diario

durante

6-12 meses

Fuente de la reseña
Relación calidad-precio
5
---
Best CRM
We are an electrical service business and Fieldpulse has a been a huge deal in helping us manage our business activities on a daily basis. We are able to track all customers, projects, jobs, money. We are able to create estimates and invoice.
Puntos a favor
Fieldpulse is a robust CRM that has many useful functions and the team continues to add to it. I have used other CRM's including jobber and none are as good as Fieldpulse. The Fieldpulse team also has great support that listens to you and actually supports you. They also have a feature called engage that integrates VOIP into their software. I believe this is something I have not seen in any other CRM.
Puntos en contra
It can be quicker at loading pages. Would like to see estimate function be stronger such as integrating an estimate program or create one internally that would streamline for anybody to be able to use in the field and not just experienced users. Would like to see Fieldpulse integrate with many other apps like other softwares such as Zapier, Waveapps, Mailchimp.
Respuesta de

FieldPulse

Tommy, thanks so much for your great review. At the end of the day, our goal is to help you make more money and win back time. We're so glad that we can help your electrical business every day.

Cheers,
Gabe Pinchev, CEO

Respondido el 3/2/2020
Sector: Construcción
Tamaño de la empresa: 2-10 empleados
Software usado

A diario

durante

6-12 meses

Fuente de la reseña
Relación calidad-precio
5
---
Very user friendly and incredible support team
I highly recommend this product to anyone in the field service business. I can't say enough good things about my experience. It grows along with me and my business. I anticipate using this product for many years to come.
Puntos a favor
It is designed with the user in mind. The technology is smart and actually makes my job more enjoyable. I also have to mention customer service. They are available immediately, very friendly, and always find a solution to my concerns/issues.
Puntos en contra
NOTHING at all. Anything that I bring to customer service as a concern is quickly fixed and a solution is always available.
Sector: Construcción
Tamaño de la empresa: Trabajador autónomo
Software usado

A diario

durante

6-12 meses

Fuente de la reseña
Relación calidad-precio
5
---
Good Enough For Price
Overall it is ok for field invoices and payments, but for an overall solution to help your business run better it lacks in some areas. Probably worth paying more for others, after using a different software for my other business for the last 5 years I expect more out of this software, however Field pulse is considerably less expensive than the other software we use. They will probably continue to improve this though so with the cost effectiveness may be worth it in the long run.
Puntos a favor
It made it easy to invoice and take payment in the field to avoid chasing money after the service call. Does ok for the cost.
Puntos en contra
There are several features that are missing and or do not work well for our company. The reporting could be better, but there is no customer statement function and if you have related customers(which is for a customer with multiple service locations) they are not tracked together and there is no way to send an easy to read statement of all invoices for a particular customer with multiple locations. The Quick Books syncing is terrible and is mostly related to QB online but they keep claiming they will make it compatible with QB desktop but have yet to, to my knowledge. The app has issues as well I have to post date my invoices so the correct date shows up when sent to the customer. Deleting and changing invoices is a pain and when the QB sync screws up with payment it sometimes still says invoiced when it has been paid and there is no way to manually change the status.
Sector: Construcción
Tamaño de la empresa: 2-10 empleados
Software usado

A diario

durante

1-5 meses

Fuente de la reseña
Relación calidad-precio
5
---
FieldPulse - The all around software solution for contractors and service providers!!!
Overall, I think FieldPulse is one of the biggest contenders out there. Even up against Co-Construct and BuilderTrend which are priced way out of the hands of single person or small businesses to be able to incorporate and try and they don't even trial their software. FieldPulse has pretty much the features to be able to run a successful contracting or field service company.
Puntos a favor
What I liked most about FieldPulse are the features that it has for the price of using the software. It is very reasonably priced for big companies all the way down to the single person business.
Puntos en contra
Wish they had estimating options as well as item/service database features, but after talking to a rep, it looks that they are continually working on it and puts my expectancy on these features at ease knowing that they are improving all the time.
Respuesta de

FieldPulse

Jason, thanks so much for the review. It's hard working entrepreneurs like you that keep us motivated to build a great contractor platform.

We are always improving the platform, and your comment about item/service database is clutch. We will have some tremendous new features to announce in the coming months, so stay tuned.

Please always let us know if we can help in anyway. Our customer success team all sits right next to me here in Dallas, Texas and we love hearing from you guys!

--Gabriel Pinchev, CEO

Respondido el 10/12/2019
Sector: Servicios para el consumidor
Tamaño de la empresa: 2-10 empleados
Software usado

A diario

durante

1-5 meses

Fuente de la reseña
Relación calidad-precio
5
---
I finally found what I was searching for!
So far so good!
Puntos a favor
The features are great and they actually work! After trying every software on capterra and more, FieldPulse allowed me to stop looking and get back to business. As an owner/operator I'm able to access the features I need in the field as well as the desktop. All the features are there in addition to many customization options. And the support is second to none. I've been able to get a human at all hours of the day and they are dedicated to customer satisfaction. Getting set up was a breeze and the support team guided me every step of the way (when needed). A slick gui AND good functionality? I'll take it.
Puntos en contra
It could be more customizable, but isn't too limited. There are certain features that I'd like to see that aren't currently present, but then again no one does it all. And any software that had these features certainly lacked in most others. The team is also very responsive and interested in user feature requests. Sure, it's got it's bugs here and there. But when I mention one, the team usually knows about it and are on it already. That, or it was user malfunction.
Respuesta de

FieldPulse

Lou, thanks for taking the time to leave that review! We're inspired by business owners like you. So it means a lot to us when you note that our product is feature rich and still getting better. Cheers to your success!

--Dennis Behrman | Head of Marketing

Respondido el 4/5/2020