Sobre Halp
Halp is a cloud-based information technology (IT) service desk solution that helps small to large enterprises resolve employee queries with an internal ticketing system. The centralized platform comes with a workflow engine, which enables employees to convert direct messages on Slack into trackable tickets and categorize them using customizable forms. Halp allows administrators to configure system settings, assign tickets to agents and add new admins on the platform. Employees can submit issues via email and add managers' email addresses to tickets for streamlining approval processes. Additionally, customer service agents can receive notifications on ticket updates and utilize the knowledge base to automatically retrieve multiple suggested responses, improving business operations. Halp facilitates integration with various third-party applications such as Slack, Jira, Zendesk and ServiceNow. Pricing is available on monthly subscriptions and support is extended via live chat, email and other online measures.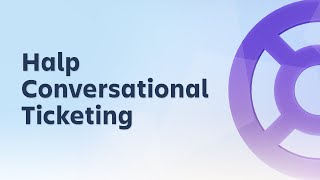 Halp no tiene versión gratuita, pero ofrece una prueba gratis. La versión de pago de Halp está disponible a partir de USD 15.00/mes.
Precio inicial:
USD 15.00/mes
Sector: Salud, bienestar y deporte
Tamaño de la empresa: 501-1,000 empleados
Software usado

A diario

durante

6-12 meses

Fuente de la reseña
Relación calidad-precio
5
---
Great Product, Great People.
Every single person I have interacted with at Halp is passionate about the product and how it can help me. They are super supportive and knowledgeable, so not only do they listen to my feedback, but they have great ideas of how to use Halp fully with the other tools I have.
Puntos a favor
I am in an environment with Slack and Zendesk used heavily. I love that I now have these tied together in an easy way to be able to quickly push tickets without even having to go back to the web interface. There own ticketing system backend is ever improving and I fully intend to move my IT team off of Zendesk and over to Halp fully, hopefully within this next year. Also, the BetterCloud integration to be able to kick off workflows is AWESOME.
Puntos en contra
They did originate as BubbleIQ and have grown into what they are now. Because of this, the feature set it still growing. That is not a horrible Con, as they are actively growing the feature set and constantly seek input from customers to determine the best roadmap.
Sector: Construcción
Tamaño de la empresa: 201-500 empleados
Software usado

A diario

durante

1-5 meses

Fuente de la reseña
Relación calidad-precio
5
---
Halp: filling the gap between the [email protected] email and a full helpdesk
Halp has been a great transition for us from a basic [email protected] shared mailbox. It's great value for money and inexpensive for what it does--we look forward to seeing how the product grows and how we will end up using it as we grow.
Puntos a favor
Halp made it super easy to set up our team to start processing tickets and most importantly helping our internal customers. The Microsoft Teams interface is slick, and since we're all on it, people are enjoying being able to directly interact with helpdesk resources through Teams. It was quick to setup and intuitive for us and our end users. We like the search interface's speed for helping us find similar issues and get up to speed quickly.
Puntos en contra
It's still pretty basic: reassigning a ticket in Teams isn't possible (use the web interface), it handles message attachments poorly, and sometimes we still have to dig out the original email that came into our helpdesk account to figure out what the request is about. No macro/frequently used text support.