Sobre Teachable
Teachable is a cloud-based learning management solution used by small and midsize businesses. The solution allows users to create and share online courses by adding audio, video, images, text and PDF files. Students can access these courses across devices such as computers, tablets, and smartphones. The solution enables users to create online quizzes and certificates to evaluate students' progress. Google Forms are included to collect course feedback. Targeted emails can be sent based on filters such as enrollment, course completion and code redemption. The solution integrates with Zapier to provide access to tools such as Intercom, Olark, MailChimp and Zendesk. Teachable's dashboard provides an overview of student signups and revenue across a defined time period. In addition, users can incentivize enrollments by creating discount coupons. Advertising effectiveness can be tracked by adding conversion pixels to their website. The solution is available on a subscription basis and support is provided via an online ticketing system.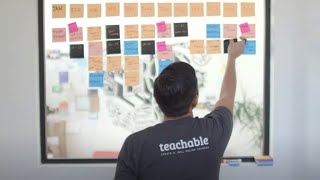 Teachable no tiene versión gratuita, pero ofrece una prueba gratis. La versión de pago de Teachable está disponible a partir de USD 39.00/mes.
Precio inicial:
USD 39.00/mes
Sector: Instituciones religiosas
Tamaño de la empresa: 2-10 empleados
Software usado

Semanalmente

durante

Más de dos años

Fuente de la reseña
Relación calidad-precio
5
---
Teachable Moments
Overall Teachable solved a revenue issue for us! We needed a place for people to go and purchase out products and downloadable services without having to start from scratch - which is quite costly - and Teachable allowed us to do that. It help us generate necessary revenue with ease.
Puntos a favor
Teachable is very user friendly. I am not a very technically inclined person and this program gave me the ease I needed to set our digital classroom. AT the time we began using the company could not afford more than $100 a month and Teachable was very affordable for out small nonprofit.
Puntos en contra
I would say that my least favorite aspect of Teachable is or was the design templates, although they recently upgraded this feature and you can do a few more fancy things to your store and landing page.
Alternativas consideradas
Kajabi
Razones para elegir Teachable
At the time I felt that Teachable had more flexibility with a free or no cost version.
Razones para cambiar a Teachable
Kajabi is for a more established company with a consistent revenue stream and at the time we were not that company.
Sector: Consultoría de gestión
Tamaño de la empresa: Trabajador autónomo
Software usado

Semanalmente

durante

6-12 meses

Fuente de la reseña
Relación calidad-precio
5
---
Teachable: la liberté de créer ses propres formations
Teachable m'a été chaudement recommandé, et comme je l'avais souvent utilisé en tant qu'étudiante, j'étais heureuse de l'utiliser comme formatrice. Il s'agit d'une solide plateforme très professionnelle et je sens que grâce à celle-ci, je peux amener mes formations et mes étudiants à un autre niveau.
Puntos a favor
Les fonctionnalités de Teachable sont infinies et poussées, comparativement à l'autre produit que j'utilisais par le passé! Il demande un peu d'adaptation pour se familiariser, mais une fois que c'est fait, c'est simple à utiliser et j'aime le fait que je peux absolument TOUT traduire et adapter à mon entreprise.
Puntos en contra
Étant Canadienne et devant charger des taxes Canadiennes et Québécois, ce logiciel n'est pas adapté en ce sens, ce qui m'a causé quelques complications.
Alternativas consideradas
Kajabi
Razones para elegir Teachable
Parce qu'avec mon précédent produit, je me sentais limitées dans les fonctionnalités.
Razones para cambiar a Teachable
Le prix était plus abordable et j'avais eu plus de recommandations pour Teachable.
Sector: Música
Tamaño de la empresa: Trabajador autónomo
Software usado

A diario

durante

Más de un año

Fuente de la reseña
Relación calidad-precio
4
---
Good in some areas. Poor in others.
Leadership of the company tends to focus on the money angle but I guess that's to be expected. ("You can make mega-$$$ with your courses!" and some have.) You won't find information on crafting your course but you will find plenty on how to give it a high price tag. If you can avoid the hype and have a third party email app you like to use, then Teachable is a good option. I've found it to be affordable and profitable in spite of the email problems.
Puntos a favor
The teaching platform (curriculum videos, PDFs, etc.) is good and uploads are easy. I found that building a sales page was not difficult and sending people to the sales page with discount coupons was a smooth process. Payments were collected and paid out promptly at the end of the month (for my plan). Support is by email only (no chat) and took a couple days but the answers were helpful. The plans are reasonably priced for individual teachers and consultant.
Puntos en contra
I have experienced serious problems with their built-in email application. Since this is the primary way teachers communicate with students, it should be a priority for them. There were days when it wasn't working when I needed to send links to live classes and webinars. It's difficult to customize "Welcome" emails and there's no way to schedule sends or save drafts. They recently announced that all emails would come from a strange looking email address that belongs to them (and has been labeled "spam" by my email hosting service). I've drawn their attention to these problems several times. The response is polite but there has been no move to improve the service. It's a very amateurish response. I would recommend looking at other services first OR be prepared to use a third party email service every time you want to reach your students, including new sign-ups.
Sector: Marketing y publicidad
Tamaño de la empresa: 2-10 empleados
Software usado

A diario

durante

6-12 meses

Fuente de la reseña
Relación calidad-precio
4
---
critique de l'application Teachable
Puntos a favor
c'est le marketing de teachable les cours sont promus sur le logiciels comme ceux qui ont le plus de visibilité et donc plusieurs étudiant y adhère en plus les cours sont bien fait pour tous
Puntos en contra
le seul point avec teachable c'est que les cours sont un peu plus chères que la moyenne mais a part cela rien signaler
Sector: Aprendizaje en línea
Tamaño de la empresa: 2-10 empleados
Software usado

Mensualmente

durante

Más de dos años

Fuente de la reseña
Relación calidad-precio
3
---
A complete LMS platform
We like teachable for easy and fast delivery courses
Puntos a favor
A complete LMS platform, a lot of features and custom designs you can use, you can actually build the whole website using teachable with the e-learning part integrated into it
Puntos en contra
The price, it's really high, of course, you can use it for free but the commissions are high
Alternativas consideradas
Docebo
Razones para cambiar a Teachable
teachable is easy to use and has a lot of features, also it's really customizable