Sobre HoneyBook
HoneyBook is a cloud-based customer relationship management (CRM) solution designed for small businesses. The solution helps users manage business processes from inquiry through to invoicing. HoneyBook lets users manage projects, book clients, sign contracts online, send invoices and handle payments. HoneyBook features task management that lets users view and track various stages of a project. Users can keep invoices, contracts and other documents in one place. Also, users can respond to clients with automated appointment requests and follow-ups using personalized templates and notifications. In addition, automated payment reminders can be sent and task reminders can be created based on the projects. HoneyBook integrates with tools such as QuickBooks, Calendly, Zapier, Gmail and Google Calendar. HoneyBook provides its services on a monthly subscription basis. The solution offers a mobile application for Android as well as iOS users and support is provided via email, an online help center, community forum and over the phone.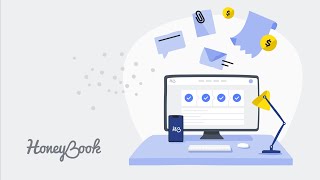 HoneyBook no tiene versión gratuita, pero ofrece una prueba gratis. La versión de pago de HoneyBook está disponible a partir de USD 9.00/mes.
Precio inicial:
USD 9.00/mes
Sector: Servicios jurídicos
Tamaño de la empresa: 2-10 empleados
Software usado

A diario

durante

Más de dos años

Fuente de la reseña
Relación calidad-precio
5
---
The Best Client Management Resource-- goes beyond normal software
Before I used HoneyBook, I had tried several other client management platforms. All of them were clunky, and often I'd have to hunt around for things in the interest of the app developer's attention to folders and organization. What a mess! I'm so glad I switched to HoneyBook. They've consistently made product improvements and seem to really care about their customers. It gets easier and more fun to use every day, with just enough features to accomplish what I need without overwhelming me. I highly suggest this to anyone who is managing multiple clients, especially if you have client projects that tend to go dormant for awhile then pick back up.
Puntos a favor
I love how easy it is to use, and how amenable the HB team is to updating the software if you have a feature request or complaint. It provides very visual, easy user prompts that allow me to easily accomplish what I need in a fraction of the time of other software apps I've tried.
Puntos en contra
It's annoying that I can't delete the default emails that came with my account to replace them with my own workflow, so myself or a team member doesn't get confused with their suggested emails vs. the ones I actually want to use.
Respuesta de

HoneyBook

Christina, thank you for you being a HoneyBook member! We are so happy to hear that HB allows you to manage your clients in a fraction of time of other systems! Our Product Team works hard to consistently meet and exceed our members expectations. Thank you for the feedback on the default email templates. I will share with our team. Incase you didn't know, you can edit the default templates text and format to meet your needs.

Respondido el 23/9/2019
Sector: Fotografía
Tamaño de la empresa: Trabajador autónomo
Software usado

A diario

durante

Más de dos años

Fuente de la reseña
Relación calidad-precio
5
---
My favorite CRM ever
I've loved every minute! Even with the few things that I think could be improved on, I think their team is doing an amazing job!
Puntos a favor
The best part about HoneyBook is that I'm able to fully customize everything to match my brand's visuals. Everything about this CRM is easy to use. The support team is always incredible if you need help - they're seriously the best around. The community around HB is also amazing. I love how easy it is to go from an inquiry to a booked project with my automated workflows! The newer client portal feature is always a client favorite, too!
Puntos en contra
I would love to see a more flexible method for viewing pipelines and tasks. I prefer to view a Kanban-type of pipeline/workflow and tasks. I'd like to be able to click on a workflow and see how many clients/projects I have under it.
I also don't like that I can't charge for certain appointment types. I would love to use the scheduling feature for booking mini sessions or other items that I would charge for outside of weddings/brand sessions. It would also be great if certain appointment types could work as lead capture forms (i.e.: when an appointment is booked, a new inquiry is created).
For financial tracking, it would be nice to be able to create a recurring expense.
Sector: Fotografía
Software usado

Semanalmente

durante

Más de un año

Fuente de la reseña
Relación calidad-precio
1
---
Not User Friendly - Difficult Learning Curve
Puntos a favor
Keeps contracts in one place, able to accept credit cards. You can network with other vendors, and they seem to really concentrate more on this than actually developing software that works well.
Puntos en contra
I am a "founding" Honeybook user and bought the lifetime membership. At first, HB was very convenient. The learning curve was very frustrating as the online software had many MANY bugs. It still does. The entire premise behind the software was to free up your time, have all your projects in one place, sign contract, get paid, etc. Yes, great idea! However, the software has so many glitches! You're not able to even edit a person in your contacts. Their customer support team used to be great you could actually message a real person - now you have to wait a day or two to get an email answer and most of the time they just send you a link to deal with your problem. Once you email your client the contract, everything goes down the Honeybook "rabbit hole". My clients are tech savvy and they can't even figure out Honeybook - the emails that I've received from frustrated clients is numerous. Save your time and money and get another online software that will actually do the job - like Sprout Studio or Dubsado. Wish I would have done that from the beginning. Regretting my purchase since my lifetime "membership" isn't transferrable and Honeybook continues to make money off of me by accepting credit card payments. I looked at 17hats, which also didn't have great reviews before I purchased Honeybook. Moving on, however, I'm assuming that the process will not be easy transferring existing contracts and other office files.
Sector: Fotografía
Tamaño de la empresa: Trabajador autónomo
Software usado

A diario

durante

Más de dos años

Fuente de la reseña
Relación calidad-precio
5
---
The BEST investment for my business
Love love LOVE HoneyBook! I've been using it for several years now, and can't imagine using anything else instead. And their customer service is QUICK and helpful for the few times I haven't been able to figure out how to do something.
Puntos a favor
It keeps my business organized and on track! From digital contracts and invoicing, custom brochures and questionnaires, to email tracking and a simple way to see what step I'm at with each project, HoneyBook keeps me on track.
Puntos en contra
The worst part about it is getting started, but even THAT is pretty simple with their "concierge service" where you can send them your current forms and they'll digitize them for you!
Sector: Entretenimiento
Tamaño de la empresa: Trabajador autónomo
Software usado

A diario

durante

Más de un año

Fuente de la reseña
Relación calidad-precio
5
---
Honeybook just works!
I am very happy with the software.
Puntos a favor
I really like how seamless, intuitive, and robust honeybook is. I like how it keeps me on track and integrates with calendars, emails, and helps my clients stay organized.
Puntos en contra
Some of the features I would like to see in the future would be the ability to integrate a "store"-like function directly into the crm. I would like my clients to be able to choose from options that I offer and those choices to become a proposal or invoice.