Sobre EHR 24/7
Founded in 2000, Office Ally's EHR 24/7 is a standalone, web-based electronic health record (EHR) for all medical specialties. The solution is ONC-ATCB certified and HIPAA-compliant and offers users secure login and data storage. EHR 24/7 is also Meaningful Use Stage 2 certified. Users have access to a multitude of features, which include customizable templates and SOAP notes, patient follow-up reminders, e-prescribing and laboratory integration. Healthcare professionals can use the e-prescribing feature to send prescriptions electronically to the pharmacy of a patient's choice. Providers and their patients can also access Patient Ally, Office Ally's online patient portal, free of charge. Patients can view their medical records (including lab results and visit notes), request appointments and medication refills and communicate with their healthcare professionals online. Office Ally EHR 24/7 also integrates with several dictation platforms, including Dragon, allowing users to seamlessly dictate and attach sound files to patient charts.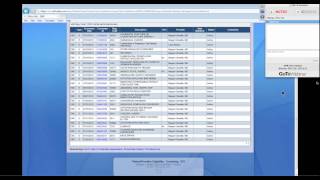 EHR 24/7 no está disponible en versión gratuita y no ofrece prueba gratis. La versión de pago de EHR 24/7 está disponible a partir de USD 29.95/mes.
Precio inicial:
USD 29.95/mes
Sector: Hospital y atención sanitaria
Tamaño de la empresa: Trabajador autónomo
Software usado

A diario

durante

Más de dos años

Fuente de la reseña
Relación calidad-precio
5
---
Excellent Software for Medical billing and EHR management
My experience with EHR/ 24/7 has been very good. I help set practitioners up with this software all the time. What I do is create a template from speaking with the providers and then have them submit it to Office Ally and go through the set-up that way. This method allows the providers to really personalize the categories and wording to their office and specialty. Thumbs up Office Ally you have made this program very easy to set-up, use and personalize.
Data entry during a visit is very smooth once you get the initial programming of your common phrases saved. This speeds up the provider's data entry time considerably and allows more time with their patients.
Puntos a favor
I like the simplicity of Office Ally. It is very easy to use for scheduling your patient, managing their electronic health record with easy to use templates and following the electronic billing process.
Puntos en contra
The only thing I would add to Office Ally after using it for 8 years plus, would be the ability to print out a patient ledger with the provider's name, address and phone number at the top. If there isn't a balance due on the account the statements won't include the visits dso the only option for me to print a form that our patients need for their HSA and FSA accounting is the patient ledger. If you print a superbill at the time of service it will be inclusive of all these things but the aftercare for financials is where this pops up. Other than this one little thing I am very happy with Office Ally and you can't beat the pricing!
Sector: Práctica médica
Tamaño de la empresa: 2-10 empleados
Software usado

A diario

durante

Más de un año

Fuente de la reseña
Relación calidad-precio
3
---
Great system with some drawbacks
This is a great system if you don't need advanced notifications of appointments, or want outside vendors to interact with the system for reviews. And, if your clinic doesn't care that the clinician can't look at the financials or schedule, it works well. To us, this was a huge drawback. But, we loved the ease of use for the actual charting.
Puntos a favor
Charting is quick as long as you use Text Blaze Snippets on chrome with it. Otherwise, it can be long. It is customizable by the provider and for specialties which is nice. Each specialty can have their own template. Adding patients is easy. Re-prescribing doesn't require an actual note, so the MA's or RN's can do this and send to provider for authorization. Uses "superbills" for charting, meaning you can bundle specific CPT codes with allowed ICD10's. Interacts with their billing clearinghouse for rapid notification of coverage.
Puntos en contra
It is segmented. You can't look at the patient financial's without going into a completely different system (the practice manager). Same goes for scheduling. In other words, if you want to schedule, you have to be logged into 2 systems they have that communicate. But, requiring you to have multiple types of browsers (not just tabs) up and running. The system only allows notifications of appointments outside of a 24 hour period, such that if you wanted to setup notification of appointment on the same day, ie. 3 hours before appointment, it doesn't let you. And, there is no system outside that interacts with officeally. So, if you want to do patient reviews, emails, etc., you have to manually upload your file to the outside vendor.
Razones para elegir EHR 24/7
We had used OfficeAlly's clearinghouse for years and were happy with them. And, Charm does not do billing well, plus the charting took too long.
Razones para cambiar a EHR 24/7
Cost for Advanced EHR and the ease of charting. For us, quick charting is the best. AdvancedEHR was expensive and took too long to chart. We switched to WRS health after a year with officeally. Clinicians didn't like the switch as OA is easy for charting, but the staff likes WRS for the front-desk. In the end, we are still looking for a viable option.
Sector: Hospital y atención sanitaria
Tamaño de la empresa: 51-200 empleados
Software usado

A diario

durante

Más de un año

Fuente de la reseña
Relación calidad-precio
5
---
User interface is too cool
We are very happy with 24/7 services it's not costing you more even if you are a small clinic and thing to save a lot against a fee service then you are right place to choose this service! Just used 3 month then you are addicting of this
Puntos a favor
User interface is too cool easy to upload/ store all documents in one place try once a life if you are tried paying alot for a services
Puntos en contra
Step a new practice is very easy always comes with new updates to save a lot of time you can easily log in from every device
Sector: Cuidado de la salud mental
Tamaño de la empresa: Trabajador autónomo
Software usado

A diario

durante

Más de dos años

Fuente de la reseña
Relación calidad-precio
2
---
Poor quality and incompetent support help
I have been, sadly, an Office Ally client for about the past six years. The only reason I'm still with them is because they make it too difficult to leave: they'll pack your client demographic information not the progress notes should you wish to migrate to another EHR/PM service. Customer Service / Tech Support is a joke; they're mostly just gatekeepers who will do everything they can to convince you that a technical issue is something on your end and not theirs.
Here are some examples of what I;'m talking about....
1. Patient Ally, their feature that allegedly allows clients and their patients to swap documents in a HIPAA-secured environment, more often than not fails to properly function. I've tried to send documents to my clients, and vice-versa, and they cannot be retrieved. When I complained about this, the "tech support" person tried to slough it off as a problem with either my computer or my client's His argument was that "if large numbers of our customers aren't complaining about this, then it's not a problem." I now use Adobe Cloud instead.
2. When using the accounting and claims management features in their practice management platform, Practice Mate, in order to post payments to a deactivated client account, I have to re-activate it, post the payments, then de-activate it again, which is a time-waster and unnecessary. When I addressed this with tech support, his unbelievable answer was: "Well the LOGIC is that if you're no longer seeing a client, then you won't be taking any more payments on their account." I had to explain to him that managed care can take weeks or months to pay claims, and also that some discharged clients owe past-due balances. His response was dead air.
3. The EHR platform has a penchant for bumping you off AS YOU'RE WORKING IN A CHART, which means you lose all the data and have to log back in and recreate it. This usually happens between 5-7 pm EST. The two times I reported this to "tech support," they told me it was probably my computer or my ISP and it wasn't their problem, again, because tens of thousands of other Office Ally users hadn't complained about it.
Yeah, the cost is low, but if you're a sole practitioner like me, without so much as a receptionist, these inefficiencies can cost you in time and money.
Puntos a favor
Relatively easy to use.Fairly good integration between EHR and Practice Mate.
Puntos en contra
1. Many of the features don't work properly. 2. Some functions are not the most efficient and actually waste end users' time. 3. "Tech Support are mostly gatekeepers. When you call to report a problem, their typical response is that if thousands of other users haven't already called to report the same issue, then it must be your fault and not theirs. They also refuse to let you speak to a supervisor or manager, their typical excuse being "They're all in a meeting." They claim to write "job tickets" and promise a callback, but of course they never call back and the issue is rarely resolved.
Sector: Salud, bienestar y deporte
Tamaño de la empresa: 2-10 empleados
Software usado

A diario

durante

Más de dos años

Fuente de la reseña
Relación calidad-precio
5
---
EHR 24/7, Office ally's EHR solution
Office Ally's EHR 24/7 is great. Anything we have an issue with the customer service is happy to teach us, and if its complicated or necessary we can schedule training for employees and staff on different aspects of the service.
Puntos a favor
It works hand and hand with Practice Mate, so that your entire practice can be integrated through one electronic system. Patient scheduling, medical records, prescriptions, patient charts, billing, claims, payments, invoices, all in one.
Puntos en contra
There really are not many drawbacks to Office Ally's Practice Mate and EHR 24/7, I highly recommend them for any practice looking for a comprehensive software solution for their business.