Sobre Zoho CRM
Zoho CRM is a cloud-based business management platform that caters to businesses of all sizes. It offers sales and marketing automation tools with helpdesk, analytics and customer support functions. Zoho CRM helps users respond to customers across channels in real-time. Zia, Zoho CRM's AI-powered sales assistant, can predict an appropriate time to contact customers. It scans emails for urgency and can display relevant statistics or documents when performing searches. Users can integrate with G Suite, WordPress, MailChimp, Evernote, Unbounce and other third-party systems. Zoho CRM's software development kits provide tools to build custom functions to add to the CRM. Zoho CRM is available on monthly or annual subscriptions and support is extended via phone, email, documentation and other online measures.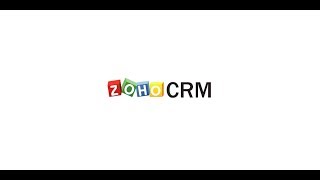 Zoho CRM dispone de una versión gratuita y ofrece una prueba gratis. La versión de pago de Zoho CRM está disponible a partir de USD 20.00/mes.
Precio inicial:
USD 20.00/mes
Sector: Telecomunicaciones
Tamaño de la empresa: 1,001-5,000 empleados
Software usado

A diario

durante

Más de dos años

Fuente de la reseña
Relación calidad-precio
4
---
The best CRM we have use
Zoho CRM help us to easily managing our customer support and interaction with customer. It is so easy to learn all the features and has help us managing leads coming from the marketing funnel.
Puntos a favor
Zoho CRM is cloud based platform, which mean it can be access from any device with internet connection. Managing a customer relationship tools like emails, quick chat, bot chat, sales call, marketing funnel and social media is very possible with Zoho CRM and the tools is well build with no problem to integrate it with third part service.
Puntos en contra
The are some bugs and glitches that are still not fixed. Sometimes, i can even login to the platform and keep showing an error for the Captcha. Other than that, the email template that are provided is difficult to edit and not many option to customized it.
Sector: Consultoría de gestión
Tamaño de la empresa: 11-50 empleados
Software usado

A diario

durante

Más de dos años

Fuente de la reseña
Relación calidad-precio
5
---
A functional CRM that does the basics and more, well. Fits a business of any size.
I think there are some very good functions and features in Zoho CRM. It is easy easy to use and also has a raft of potential add-ons in the Zoho Suite that can be used at a small cost such as Zoho Sign which is so simple to use along with Zoho Survey. It can be White Labelled which I like.
Puntos a favor
It ticks our list as a Cloud-based solution after moving from a system on a shared network drive operation. You receive quite a lot for the price. It is built around the sales funnel/channel and does this well. It gives you all the functionality within the leads or accounts fields to record meetings, interactions, emails, phone calls, emailing directly from Zoho and calling from Soho if using a VOIP system.
It's actually got good 3rd party cross-functionality with 365 or G-Suite, I use the former with excellent Outlook usage.. Chat functions or messages are easy and can be linked to a client or user and sometimes are a better way to record the customer record that on ordinary business email.
I have only needed to contact the support team a few times but each time has been very quick and a swift resolution.
I have used some of the automated marketing features and it is definitely something that I will utilise more with any web info request funnelled to Zoho.
Puntos en contra
The UI can look a bit plain for some if you do not know how to customise. Downloading or collating data is not always straight forward. This is also to be said about uploading leads. It is not always clear which part of an upload has failed. However, when the upload does work it is a great time saver.
The search function is not that intuitive; I found sometimes unless you type in an exact match it does not return anything.
Sector: Contabilidad
Tamaño de la empresa: 11-50 empleados
Software usado

A diario

durante

6-12 meses

Fuente de la reseña
Relación calidad-precio
3
---
CRM for Small Business
Overall Experience is Very Good. We are happy with the product. We had our doubt while purchasing but now we are glad we did.
And Zoho is developing, introducing new features every now and then. Very Nice
Puntos a favor
A lots of features in one place with different functionality, made the life easier. We use MAIL, CONNECT and CLIQ all the time. It has become an inseparable part of our Business.
WorkDrive is very Responsive and Reliable Best solution for File storage with the team. I can Give access to a folder to my colleague and can revoke when done. Very easy.
Mobile apps are Also Nice and Handy.
The way ZOHO keeps everything Tidy and Clean by offering different options for different problems is the most I like about ZOHO CRM
Puntos en contra
Very big System a lots of functions which remains untapped and I think it will be for some time now. beginners have to learn some behaviors to work with it. The learning curve a bit Steep.
In short I don't have anything that I dislike about ZOHO, but it took some time to get here.
Razones para elegir Zoho CRM
Google is Good but very Expensive. Zoho is on the other hand a bit low on the price side. Initially that was the primary reason to switch.
Razones para cambiar a Zoho CRM
It was a little less costly and was promising a lot of features. Other Options that we tried was not promising much. Another very important thing is that they gave us 2 months free, the paid version for free. For the whole team with the Email support. I mean we had our
[email protected]
for free. In the while We tested the platform as much we could and liked it, purchased it. Happy that we did.
Sector: Consultoría de gestión
Tamaño de la empresa: 2-10 empleados
Software usado

A diario

durante

Más de dos años

Fuente de la reseña
Relación calidad-precio
0
---
You get what you pay for
Unlike my other review, I only used Zoho as a user, not as an administrator. I can't comment on the customer service, as I never had contact with them. I'm aware of the pricing as I shopped them before choosing the CRM my team uses now.
Basically, this is a great free database, accessible by multiple users. It is not a great pipeline tracker. It is not a great system for an efficient data entry process.
Puntos a favor
The best thing about Zoho is that it's free for up to a number of users. Great for a small business who doesn't have a budget for CRM yet and needs somewhere to store information and search it later. It can be simple to use. I always look for a system that you can enter a very minimal amount of information into in order to store a lead or prospect. Zoho is definitely capable of that.
I have used this in conjunction with inside and outside sales teams together. It was simple enough for the inside team to look up an account that calls in to see if they've had contact with an outside rep, and vice versa. It's nice that it has a mobile app, though when I stopped using it it was still the least intuitive/useful app I had on my mobile devices.
Puntos en contra
I've used other CRMs, and I noticed that using both Zoho and another (Salesforce) it is very common to happen upon duplicate prospects in the system. It seems like the way an account is entered is not as intuitive in detecting that the account already exists. I've used others that will suggest any contact, address, phone number, name or business that already exist in the company's pipeline literally as you're typing them. With Zoho it's more like you look up each data field first on your own to be sure the account doesn't exist before entering it.
That can be pretty tedious for an already tedious job like assisting our reps with data entry. The result is lost notes, because some are on one of the duplicates and some are on the other. I've seen this particular problem cause a lot of lost time and energy for outside reps in particular, who go out to an account not knowing the most up to date information about it.
I also found the other tools to be less useful than in other CRMs. For instance, generating a report on your pipeline and what stage the accounts are in. Other CRMs in a similar price range are easily capable of telling a user how many prospects are in follow up or final stages of the sales process. While using Zoho, I actually tracked my pipeline on my own separately using a spreadsheet. It was easier and more intuitive than the CRM offered. Now, leading a team, I would not use this CRM and this would be a big reason why. I can't imagine trying to track the progress of our leads via a team using this CRM's tools.
Sector: Software informático
Tamaño de la empresa: 51-200 empleados
Software usado

A diario

durante

Más de dos años

Fuente de la reseña
Relación calidad-precio
5
---
Keep your customers engaged with your business
With Zoho CRM it is much faster to manage your customers, projects, and communications all in one reliable platform. Its implementation in our organization has increased our revenue geometrically.
Puntos a favor
Zoho CRM offers a feature-rich platform to engage with your customers. You can manage contacts, send mass emails, notifications, manage inventory, implement an AI assistant, and even give your customers a mobile app to stay synced.
Puntos en contra
The software can not be self-hosted on your private server.
Razones para elegir Zoho CRM
Zoho CRM provided smooth data migration and a rich set of features.
Razones para cambiar a Zoho CRM
Zoho CRM is easy to get started and integrate with existing business processes. Also, they offer a free plan and paid plans starting from just $14 per month.