Sobre Dynamics 365 Business Central
Microsoft Dynamics 365 Business Central is a cloud-based enterprise resource planning (ERP) software solution designed for midsize organizations to streamline business operations and accelerate cash flow. This SaaS solution offers specialized functionality for business processes relating to manufacturing, distribution, government, retail, and other industries. The system was originally developed by Denmark-based Navision A/S until it was acquired by Microsoft in 2002. Microsoft Dynamics 365 Business Central offers applications for financial management, inventory management, human resource, quality management, multiple and international sites, project management, sales and marketing, service management, supply chain management and business intelligence. This ERP solution provides full customization and allows users to effectively manage any sales order, implement automated workflows, keep track of all inventory, and view in-depth data analytics. Microsoft Dynamics 365 Business Central deploys on the WindowsOS and Microsoft SQL Server and is developed on the .NET framework, This offers customers a tightly integrated stack from infrastructure to application.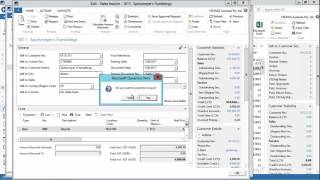 precios de Dynamics 365 Business Central
Dynamics 365 Business Central no está disponible en versión gratuita. La versión de pago de Dynamics 365 Business Central está disponible a partir de USD 8.00/mes.
Precio inicial:
USD 8.00/mes
Detalles de precios:
Essentials: $70 per user, per month. Premium: $100 per user, per month. Team Members: from $8 per user, per month. Contact vendor for information on included features and additional pricing information.
Alternativas a Dynamics 365 Business Central
Opiniones de Dynamics 365 Business Central
Sector: Software informático
Tamaño de la empresa: 1,001-5,000 empleados
Software usado

A diario

durante

Más de dos años

Fuente de la reseña
Relación calidad-precio
5
---
Great ERP software with great integrations
I have been working with Dynamics NAV and Business Central for almost 4 years now, as a technical consultant. I install and implement BC on regular basis.
Also I support customers with technical issues around Business Cental, which I love to do.
The possibilities with BC are endless.
Puntos a favor
As a technical consultant, who installs and implements Microsoft Dynamics Business Central I find the integrations with all Microsoft's Azure applications a big plus.
Seamless integration with Microsoft's Flow, PowerApps, Outlook, etc work very well.
Puntos en contra
There USED to be some disadvantages of Business Central, because for a long time Microsoft wasn't clear what course they would go. But now the course is set to the cloud (Azure) and I think that is the only way to go.
Sector: Tecnología y servicios de la información
Tamaño de la empresa: 2-10 empleados
Software usado

A diario

durante

Más de un año

Fuente de la reseña
Relación calidad-precio
5
---
Best ERP software so far
The procurement process has been made easier.
Our asset management is now on point.
The human resource management especially the payroll management bit is awesome.
Puntos a favor
Dynamics 365 BC has a variety of tools including the procurement module, human resource module, and the finance module.
It has a interface that is user friendly and easy to use.
It's workflows are outstanding and carrying out an activity from one end to another is made easy. With the workflows, at least a track can be made on the movement of activities carried out in the system.
The ability to generate reports is a plus which is also easy.
Another good feature is that it can be customized to accommodate the user needs.
It is also compatible with Microsoft Excel such that one can export and import data between the two.
Puntos en contra
At first, you will need some practice on how to manage it to avoid messing up with your crucial data.
Another issue is that running many processes at once can slow it down and this will force you to wait longer.
Razones para cambiar a Dynamics 365 Business Central
Dynamics 365 Business Central has a variety of tools that our organization needs.
Relación calidad-precio
0
---
I have worked in the supply chain for 5 years now and have experience with 3 different ERP's. Our old ERP was limiting, though it was also fairly straight forward. The biggest issue seemed to be how incredibly date sensitive how ever without requiring dates at the same time. This pushed the change to a new ERP and Microsoft NAV was chosen through their partner company Just Foods.
A truly bizarre system, the flow of documentation through the program makes little sense and over complicates what would normally be easy transactions. For instance Purchase Orders follow this document flow - First the purchase order is created once you receive your order, a warehouse receipt document is created and received in. However, once it is received in the warehouse, the receipt document disappears and becomes a posted receipt document (both have completely different document numbers that don't connect to each other). At this point your original Purchase order has been changed to reflect what ever was received in, and you have to have a second column to view what you originally ordered. Otherwise, figuring out if you over or under received is difficult at best. Now once the invoice comes in and is posted against the posted warehouse document, your purchase order disappears. The only place your purchase order exists in its original form is the in Purchase order Archive, which was never mentioned to us during implementation, forcing us to call Just Foods later on and pay for their customer service.
This same, strange flow of documents, that are essentially intermediary documents only existing to complete a transaction, over complicate what should be a straight forward shipping and receiving process. There are some other basic functionality issues, like figuring out what day you actually shipped or received an item. The easiest way to figure that out seems to require access to the warehouse functionality, which you may or may not want people to have. We get a lot of errors where the tables are locked with other users, and you are just stuck until the report or other person finishes up. The Dimensions on lines can mysteriously disappear, even though the G/L Code and Department code show as filled out in the order. Our MRP has never worked correctly, so in general, we are forced to use Excel to put together our production schedule. All in all, its a sub-par program that you can tell is 5 or 6 different original programs that have been slapped together to try an resemble an ERP system.
Now having said all that, obviously I am looking at this from a supply chain perspective as it is what I do. Perhaps on the accounting end it has some ease of use, but due to how difficult it is to understand on the operations end, the accounting rarely comes out correct due to faulty information in the system. On the positive side there do seem to be a million different ways to do the same thing in NAV, and many of the built in reports are extremely useful assuming that the information in the system is correct.
Sector: Servicios financieros
Tamaño de la empresa: 2-10 empleados
Software usado

A diario

durante

Más de dos años

Fuente de la reseña
Relación calidad-precio
4
---
Msft Dynamics as a CRM - there are other options
I think overall its a pretty solid software that if customizable would probably be one of my go to CRM recommendations.
Puntos a favor
I did like it's functionality with Outlook and other msft applications. There was little need to reorder things when exporting to excel and all that.
Puntos en contra
I did find the lack of customizability of the software to be frustrating. It appeared that there were only pre-populated choices from a drop down list for most things, many of which did not fit what i was trying to label. Now, this could have been a byproduct of my companies enterprise subscription with dynamics, i am not sure.
Sector: Bienes de consumo
Tamaño de la empresa: 11-50 empleados
Software usado

A diario

durante

1-5 meses

Fuente de la reseña
Relación calidad-precio
5
---
The new way to do business
Our business is running smoother since changing but we are slowly getting everything in the new system. It is taking some time but it easy to find orders/invoices when you know what to look for. I use it daily to send invoices, correct price errors, correct PO numbers.
Puntos a favor
I like that we are able to have all of our stages in one program. From our quotes to our invoices, we can keep track of the progress of each transaction. You can search by customer, order number, PO number, amount and there are many more options. After some training and a better understanding of how accounting works, I have excelled at understanding what needs to be done to correct issues or fix errors. I appreciate the ability to put notes on each quote, order, and invoice.
Puntos en contra
I wish there was a little more features such as having automatic invoices from multiple vendors but I think they may be working on that. I also wish there was a creation date for invoices and not just a posting date. I also wish there was a way to link invoices after you have made a change/correction such as the PO number being incorrect. Once you change the PO number, you have no idea that it went to another invoice.