Sobre LiveAgent
LiveAgent is an online live chat platform for e-commerce businesses at the small and midsize level. The platform offers live chat application, ticket management, online self-service portals and change and license management, all as either in-suite or standalone applications. LiveAgent offers a selection of broader customer relationship management (CRM) applications, such as marketing and sales force automation in cooperation with a variety of third-party software companies. It is a customizable solution that can scale as small companies grow their customer base and online services. The software provides a ticket management system where ticket contains the complete stream of chat messages, emails, phone calls, or messages from other communication channels between the customer and support staff of the company. LiveAgent is offered as both web-based (cloud) software and on-premise installations. The cloud option is priced on a pay-per-user basis by a number of agents, and the on-premise options use the up-front pricing model, based solely on the number of agents.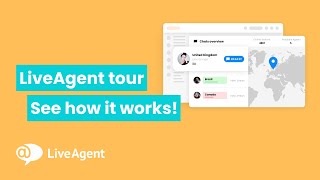 LiveAgent dispone de una versión gratuita y ofrece una prueba gratis. La versión de pago de LiveAgent está disponible a partir de USD 15.00/mes.
Precio inicial:
USD 15.00/mes
Sector: Tecnología y servicios de la información
Tamaño de la empresa: 2-10 empleados
Usado

A diario

en

Más de dos años

Fuente de la reseña
Relación calidad-precio
5
---
Huge platform with many possibilties.
I have been using LiveAgent for a couple years and find it an excellent choice, you will be able to easily keep tabs on clients. If you work with a team it brings many gamification badges and all kinds of professional ticket routing features. It also includes many reporting features which are important to keep tabs on how your team and clients are working. LiveAgent also includes many automation possibilities through both no-code SaaS such as Zapier and their own API/Webhooks and Rules automations.
Puntos a favor
I mostly use LiveAgent to keep email tickets for my support contracts. However I can see the huge potential it brings as a full-fledged, omni-channel helpdesk platform. LiveAgent will let you pick and choose which features you use. For example, you can use their live-chat widgets, or you can connect a voice ip line to take calls. It can even handle contact forms. In any case, client information will be readily available for a better support experience.
Puntos en contra
As functional as the web platform is, they are a bit stagnant on modern working life. For example, logging into two browsers will close the session on one side, and their mobile App on iOS doesn't send notifications if you are AFK on your computer. The app is not very friendly. Knowledge base pricing seems a bit high for what I believe is a very simple feature.
Respuesta de

QualityUnit

Hi Alfredo :) thanks a lot for your kind and honest feedback! We are thrilled to have you with us. We want to be the best on the market and our team is taking notes of any suggestions for improvement via chats on our website or via email at [email protected]

Respondido el 21/4/2021
Sector: Software informático
Tamaño de la empresa: 11-50 empleados
Usado

A diario

en

Más de dos años

Fuente de la reseña
Relación calidad-precio
5
---
Excellent Experience Overall - I Recommend LiveAgent
The customer support team for LiveAgent has been excellent, helping work through our needs and how LiveAgent can meet those. The application has helped us improve our management support items.
Puntos a favor
For day-to-day use, it is very intuitive for our client services team; the interface is visually intuitive, with colour coding that makes easy to see which tickets need attention and when. The automatic rules also offer a large amount of flexibility in managing support tickets and providing the right information to our team.
Puntos en contra
Some basic features are not yet included; e.g. instead of responding to an individual message, you have to forward that message, and choose all the recipients again. However, I've noticed that new features are available often, and I am confident inconveniences such as this will be resolved with time.
Respuesta de

QualityUnit

Hi Jacob,
Thank you for such a nice review. We pride ourselves in making our software feel natural and simple to use and are glad to see the work is paying off. That said, there are always areas where we can improve and will continue to do so to provide the best helpdesk software on the market.

Respondido el 12/2/2020
Sector: Comercio minorista
Tamaño de la empresa: 11-50 empleados
Usado

A diario

en

Más de un año

Fuente de la reseña
Relación calidad-precio
5
---
Significant Value for the price
Puntos a favor
Price, Excellent customer support, large amount of features and functionality
Puntos en contra
While I love the complete control of all the automated systems being programmable, it could use some additional default built in options. Comparing LiveAgent to competitors like ZenDesk is like comparing Linux to Apple. LiveAgent gives you complete control - but you have to set up everything. The other software out there doesn't let you customize, but everything works for you. An in between 'windows' option that allows control for those who want it but is smoother to set up for those who don't want the extra work would be optimal. That said, programs that do it for you tend to cost a lot more, which would defeat LA's primary value, the low cost.
Respuesta de

QualityUnit

Dear Ben, thank you for your honest feedback! We really appreciate it! :) The reason why LiveAgent was developed in a way that you have to set the majority of things up is so that it would work for each client exactly how they need. Usually, businesses differ from one to another and that is why we wanted to give everybody a chance to adjust it to their business and needs. You know where to find us should you need anything! :)

Respondido el 4/3/2020
Sector: Tecnología y servicios de la información
Tamaño de la empresa: 11-50 empleados
Usado

A diario

en

1-5 meses

Fuente de la reseña
Relación calidad-precio
5
---
Great product for managing client tickets
It has been a great experience so far in managing client tickets and the best part is that the platform is highly customisable to suit our companies needs and taste.
Puntos a favor
The product is extremely easy to use and the navigation is user friendly. And has all the features required for managing a ticketing system.
Puntos en contra
It would be great to have time to record features against each ticket. Currently, we have to use another platform (TimeNEye) to do that for us.
Sector: Tecnología y servicios de la información
Tamaño de la empresa: 2-10 empleados
Usado

A diario

en

6-12 meses

Fuente de la reseña
Relación calidad-precio
5
---
Customer support is no more a headache
This a thing one must really go for. Live Agent can prove to be helpful for almost all business small to big.
Puntos a favor
I love the way this whole software was built to help companies get a single solution to manage all the things to keep their clients happy. Such a nice tool and ease of use even for beginners. Customer care departments can handle a lot of work single-handedly using LiveAgent.
Puntos en contra
There a ton of good things to mention but among all the goodies there is one thing that might need improvement. This little improvement mist is done in the customization ability of the knowledge base and the chat widget. There are certain things that need CSS knowledge to amend.
Respuesta de

QualityUnit

Thank you very much for your excellent review! We are thrilled to have you with us and even more thrilled to hear that you are happy with LiveAgent! I am also glad to hear that handling your customer support does not give you a headache anymore, that's exactly why LiveAgent was created! Regarding the customization of the Knowlege base and the chat widget, there are various templates and customization settings but if that's not enough and somebody would want to have it designed in a way that would match their website completely, there is still a possibility of using the custom CSS. You know where to find us should you need anything! :)

Respondido el 7/7/2020